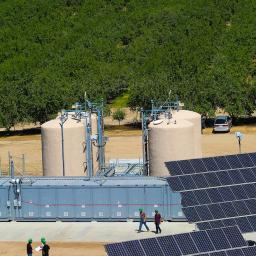 The last major problem of renewable power is energy storage for off-production times. The sun may go down at night, but our electricity demand continues. Towards solving this problem, EnerVault has created a
250-kilowatt iron-chromium redox flow battery
at a
demonstration storage project
in California's Central Valley.
One of the advantages of a flow battery is that the energy capacity can be expanded by installing larger tanks of the active material. Also, flow batteries are relatively inexpensive per kilowatt-hour compared to lithium-ion batteries and can provide power for multiple hours.
At less than $250 per kilowatt hour, redox flow batteries are cost comparable with gas-fired peaking power plants and are logical companions to renewable power generation.